Zypdo Web 3.0
Delivering an enhanced user experience, clarity to investors, and advising on technical solutions and strategies to achieve objectives.
Making ad-free video streaming default
Zypdo is a Web 3.0 ready, leverages blockchain to create a decentralized streaming platform with ad-free viewing as the default and sharing 100% of the revenue with creators, streamers and viewers.
Basically everyone!
Anticipating the app and dashboard launch, Zypdo wants to make its platform an intuitive experience for customers and provide clarity to investors and app users. GrahamAgency helped by delivering designs, pitch, and strategy.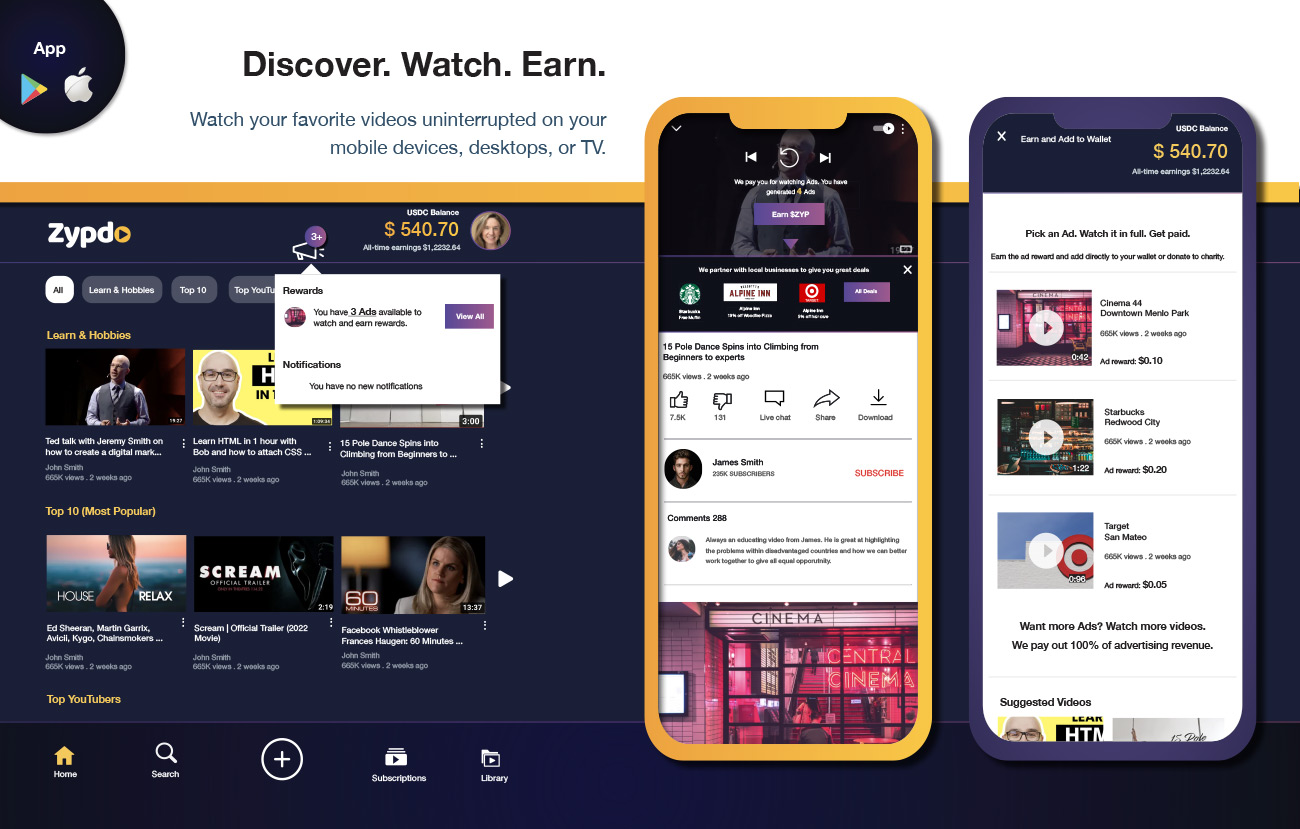 Research: Crypto
Blockchain. Staking. Objectives. Stable Coin. DeFi. Tokenomics. Circulating Supply.
To understand the product in its entirety, we needed to understand the technology that fuels the payment ecosystem.
We believe effective communication with stakeholders provides clarity and direction.
Understanding vision, objectives, users.
The platform required multiple types of users: Content Creators. Viewers. Moderators. Streamers. It was important to understand the roles of each user and how they all receive profits.
Product Design and User Experience: Simplifying complexity
Conceptualizing. Strategies. Flow. Interface.

GrahamAgency delivered product designs for the Mobile App and Coin Balance Dashboard. These basic visuals provided the necessary clarification for this stage of the project. Furthermore, we conceptualized and advised on product development, direction, and technologies.
Pitch Perfect: Designing pitch deck slides and narrative
Brevity. Trust. Narrative. Clarity. Simplicity.
As an early stage startup, Zypdo wants to source additional funding.
We believe there is an art to telling your story. GrahamAgency designed a pitch deck, including brand and digital experience strategies.